Debut author, Mila Young, is shaking up the fairy tales we grew up knowing and loving with her brand new series! You can preorder the first book now for only 99 cents!
Release Date: January 16, 2018
HUNTED
Haven Realm Book 1
by Mila Young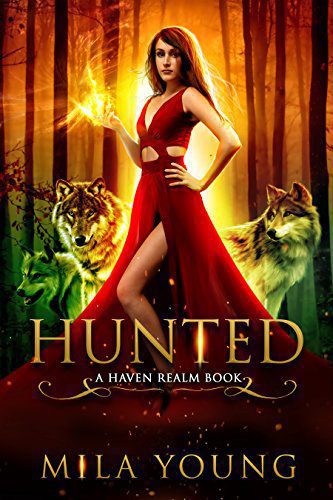 Little Red Riding Hood. Three Big Bad Wolves. A Poisonous Scheme.
Scarlet, a healer, lives nestled in the forest surrounded by humans on one side and wolves on the other. But when a rogue wolf attacks her, she's rescued by another pack and taken deep into their den to perform her healing magic on an injured Alpha.
The wolves in the forest are under threat from a mysterious affliction, and Scarlet is the only hope they have left. Faced with a mixed pack of threatened shifters, Scarlet must use her wits and magic to survive and unravel the strange affliction now affecting the wolves… All while trying to navigate an overpowering attraction to not just one, but three of the Alphas.
Witches, wolves, magic and love intertwine in an exciting mystery that finds its own, unique, 'Happily Ever After.'
Note: Each book in the Haven Realm series is a standalone book.
Only .99 cents for preorder!
This price is for a limited time so grab your copy now!
~HAB